BOOK REVIEWS
The Liars' Gospel | Thinking About Preaching | In Search of Julian of Norwich | The Path of Celtic Prayer | The Shack | Brokenness and Blessing |
The Gospel according to Judas | A Sea Change | Re-thinking Christianity
The Liars's Gospel
by Naomi Alderman
Paperback: 272 pages
Publisher:Viking (30 Aug 2012)
ISBN-13: 978-0670919901
Price: £12.99 (Amazon £8.96)
This is an interesting novel.
Four people tell their stories about their connections with a healer and preacher, Yehoshuah (Jesus), a year after his execution. They are his mother Miryam (Mary), Jehudah of Qeriot (Judas), Caiaphas the High Priest, and Bar-Avo (Barabbas). In telling their stories of life in Roma- occupied Judea, they vividly portray the fear of ordinary Jewish folk. The ever-present threat and mistrust and the cruelty of the occupying power is well told.
This novel is the story of Jesus as people of his time may have seen him before the Gospel writers had given their sparse (to modern standards) accounts of his ministry. It brings home how Caiaphas worked to keep in with the Roman authorities and the ferment against Roman rule by many people.
The two characters I found particularly interesting were Mary and Judas Iscariot. Mary as the mother of Jesus has become so venerated over the centuries that to read this story of a totally different, but very human and vulnerable woman, is refreshing and we see her in a completely new light. This light also offers an understanding, or possible explanation and background to some of the very hard sayings Jesus uttered about his family. The gospels make no mention of Joseph, Mary's husband, when Jesus is a man. Tradition has it that he died but here another reason is hinted at. Joseph is airbrushed out of the gospel story. Judas Iscariot has been removed by suicide but that may be a deliberate blackening. Here he lives on.
It is interesting to read the story of Jesus as seen by these four people who knew him, or had dealings with him. He is so much the central character in church services that it is refreshing and salutary to read about him as a person, a human being, which is not a work of theology.
And the title of the book? I quote from (almost) the last page: "Storytellers know that every story is at least partly a lie. Every story could be told in four different ways, or forty or four thousand. Every emphasis or omission is a kind of lie, shaping a moment to make a point ... Storytellers know that people enjoy tales that explain to them the origin of things, the way things come to be the way they are. This story is no different. Every story has an author, some teller of lies. Do not imagine that a storyteller is unaware of the effect of every word they choose. Do not suppose for a moment that an impartial observer exists."
This is a story well worth reading.
Peter C. Harper
---
Thinking About Preaching
by Michael J. Townsend
Paperback: 143 pages
Publisher: Epworth Press (31 Oct 2007)
ISBN-13: 978-0716206163
Price: £9.99
Michael Townsend is passionate about preaching, and that passion comes across impressively in this very readable introduction.
The book is written for the 'apprentice preacher', just starting out, but those of us who have been preaching as long as Michael can enjoy it too. It is good to be reminded of basic principles we may have forgotten, and to gain some new insights from a preacher who is a master of his craft. One of the greatest skills of the effective preacher is the ability to express complex ideas so straightforwardly and engagingly as to make them seem easy. Michael is excellent at doing that, so the book itself is a model of good communication.
Preaching is the whole theme of the book. It does not deal with any other aspect of worship, and it is not a 'how-to-do-it' book. Its focus and purpose, rather, is to look reflectively at the preacher's calling and task; at the place of the Bible, Christian experience, heritage and faith in preaching; at the importance of context; at the varieties of ways in which we can preach; and finally at some useful resources.
This is a book that would be ideal to put in the hands of a worship leader wondering whether s/he is called to preach, or of those On Note and On Trial. If members of our congregations read it too they might understand a bit better what we are trying to do. Above all, it needs to be read by anyone who thinks preaching has had its day and is not needed any more.
A book highly praised by Colin Morris, Leslie Griffiths and John Packer needs no further commendation from me. I've put my copy in the Local Preachers' Library.
John Summerwill
---
In Search of Julian of Norwich
by Sheila Upjohn
Paperback: 128 pages
Publisher: Darton,Longman & Todd Ltd (15 May 1989)
ISBN-13: 978-0232518405
Price: £7.49 from Amazon
NB: Limited availability
I found this book, amongst many others, on my mother's book shelves after she died. I knew very little about Julian of Norwich and my view of anchorites was influenced by a Play by Arnold Wesker called "Caritas" subsequently made into an Opera in which a young woman goes mad through becoming an anchoress. So, as the only phrase I knew from Julian's writings was "All shall be well and all manner of things shall be well", I was intrigued and I decided to read the book and find out more. I was not disappointed. This lovely little book introduced me not only to Julian but the 14th century world she lived in and the sorts of influences that she must have felt in her life. The book is written simply and interestingly with many quotes from Julian herself, in translations by Ms Upjohn and others. Julian's words and world are brought to light by Ms Upjohn in non academic language and simplicity which I found engaging.
This book is not a comprehensive study of Julian or her time but a starting point. For anyone interested in the world of the contemplative and women in the church, or even 14th century England, this is worth reading. I felt uplifted and enriched as I read about a woman who 600 years ago had seen into the heart of God and seen love and motherhood reflected back from Father, Son and Spirit.
Sandra Cleaver

---
The Path of Celtic Prayer: an ancient way to contemporary joy
by Calvin Miller
Paperback: 144 pages
Publisher: BRF (The Bible Reading Fellowship) (23 May 2008)
ISBN-13: 978-1841015811
This is a most interesting book on prayer. Calvin Miller, the author, is an American pastor who has studied Celtic Theology. In the six chapters of the book he takes the reader through six types of Celtic prayer. Mr Miller explains how these prayers would have been used by the Celts and how we can incorporate them into our own modern prayer life. For anyone interested in improving their personal devotion time and prayer life this book is helpful. It gave me a new perspective on prayer and ancient Christianity, linked to the natural world, which I found uplifting.
However, I did not like the pages of practice prayers set out like exercise at the end of each chapter. I felt that this tactic was a bit too didactic in a book about prayer, as it did not give the reader a chance to assimilate the structure of each prayer and then make it his or her own; I found myself very much tied to Mr Miller's interpretation of each prayer style. The last chapter of the book brought the reader back to the point of prayer in an inspirational way, but I felt this might have been more helpful at the start of the book.
This is a book that needs reading more than once. It is a book that deals with personal prayer, not corporate prayer, and so is not too useful for those wanting to learn how to pray in a corporate setting. I think people will either love the way Mr Miller deals with the topic or will soon get irritated by this use of flowery language, and give up. I found it worth while to persevere and will read the book again in the future.
Sandra Cleaver

---
The Shack
A novel by William P. Young

Publisher: Hodder & Stoughton (17 Jul 2008)
ISBN-13: 978-0340979495
Price: £7.99 (£3.99 from Amazon)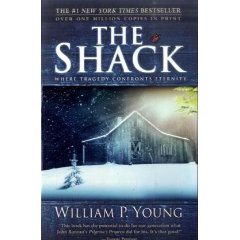 This book is a fictional narrative which has taken America by storm, mainly through word of mouth. It is a book which draws you in right from the beginning with the telling of a story which is every parent's nightmare – the loss of a child. Even people who are not parents can empathise with the lead character Mack's 'great sadness', in that everyone at some time in their life has lost someone precious to them and not always in peaceful circumstances.
As a result of the abduction and probable murder of his daughter Missy, Mack spends a weekend with the Trinitarian God at a remote uninhabited shack in the Oregon wilderness. Here Mack is drawn into discussions regarding Divine goodness and human suffering with God, Jesus and the Holy Spirit. Through their constant interaction and deep mutual love, each 'character' has a part to play in Mack's eventual healing and transformation.
It is difficult to say to whom the book would appeal. I suppose those who dislike any references to God, like a 'Dawkins' enthusiast, will not like it any more than those who have 'fixed' views of God and will say that it is too heretical. God is initially revealed as an African American woman. I didn't have a problem with that because her warmth and care is infectious. In some way it encourages the reader to want to know God better, at a deeper level. However, for me God has also to be holy or 'set apart' and, unfortunately, this doesn't seem to be considered along with God's qualities of love and forgiveness.
I received the book as a gift. When I bought the book for a friend the shop assistant told me it would be in 'popular fiction' – she was most surprised that it is located in the 'mind and body ' section. There have been loads of reviews of the book from those who hate it and others who love it. I think some critics forget that it is not meant to have authority like one by Alister E. McGrath –it's a novel!! For a book review I would say that it is to be enjoyed as a healing restorative type of story which shows that the atoning work of Christ offers hope for a suffering world. It also shows that, in the words of the song, 'Love is all around us' , and that we can encounter glimpses of heaven here on earth every day.
Dorothy Turnpenny

---
Brokenness and Blessing: Towards a Biblical Spirituality
by Frances Young
Paperback: 144 pages
Publisher: Darton,Longman & Todd Ltd (21 May 2007)
ISBN-13: 978-0232526561
Price: £10.95 (£7.22 from Amazon)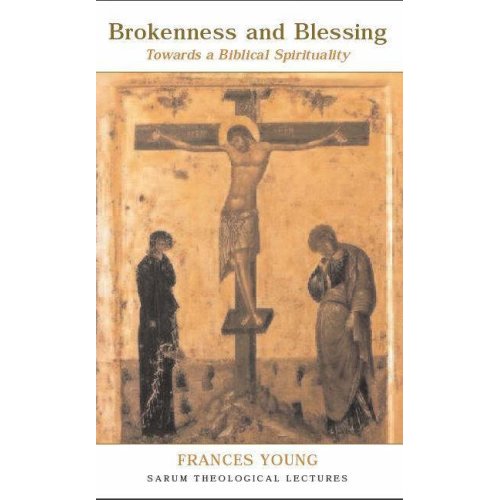 In her introduction, Frances Young explains that Brokenness and Blessing began life as a series of lectures at Sarum College in 2004. The book draws together a number of strands in her work: her scholarship in biblical and early church studies, her involvement with the L'Arche communities and her own story. The book is of interest to preachers because of what Young opens up in terms of reading the Bible, but the author's aim is to draw her readers into deeper reflection about spirituality and about a way of living that echoes the way of Christ.
Frances Young highlights how early church theologians and preachers used the Bible, focusing on the 'spiritual' meaning of the texts rather than the historical or literal meaning. She notes that this is often the way of reading the Bible embedded in the great hymns of our tradition and she begins each of her chapters with a hymn. This way of reading scripture draws on the wisdom of key figures important in early Christian history and encourages the work of the imagination in relating scriptural images directly to human experience. Young implies also that this kind of reading could take us beyond some of the bitterest current disputes in which so-called 'liberals' or 'conservatives' contest readings of the Bible which both focus more on the historical and literal meanings than on anything else.
The chapters of Brokenness and Blessing focus on themes of the desert, wrestling with God, the martyr way of Jesus, exile and desire. These themes encourage an uncompromising look at the hardest areas of human experience and the book is shot through with a determination to attend to human limitations, vulnerability and those people the world regards as damaged and broken. In her conclusion, Frances Young argues: "The wilderness is not a comfortable place to be, but it is a place where one is more likely to meet God and discover one's own limitations...So a biblical spirituality necessitates openness, receptivity and mutuality, not patronising 'do-gooding' backed up by the assurance that we are right and we have power because we are sent by God" (p.125). There is much here also about the God who is beyond us, who does not depend on us, which may challenge some over-cosy ideas about God.
Frances Young is an inspiring communicator and this is a clear and challenging book which I would very much recommend. It includes a helpful glossary of terms and names used for those who are not familiar with the period of church history to which she refers.
Jane Craske
---
The Gospel according to Judas: by Benjamin Iscariot
by Jeffrey Archer assisted by Professor Francis J. Moloney
Hardcover: 96 pages
Publisher: Macmillan (20 Mar 2007)
ISBN-13: 978-0230529014
Price: £9.99 (£6.99 from Amazon)
An interesting take on the "bad man" of the New Testament as told to his son, Benjamin some time in 70AD. For, according to this account, Judas Iscariot did not commit suicide but joined the Essenes at Khirbet Qumran where he lived out his days. His suicide was a story put about by Peter and others in the early church to blacken Judas' name.

Written in the style of the Gospels, supposedly as "a story for twenty-first century readers", it is unusually set out in chapters and verses like the Authorised Version. Chapters and verses are useful, but why not arrange them in a similar way to modern biblical translations? A minor point though, for much of the interest lies in the more rounded views of the characters—particularly Judas— than is given in the four accepted Gospels. Reasons are given for Judas's not accepting Jesus as the Messiah and for doing what he did.
This is an interesting and plausible Gospel account and supported by cross references to biblical texts and because Archer was helped by the scholarship of Professor Moloney.
Peter Harper

---
A Sea Change
by Michael Arditti
Paperback: 297 pages
Publisher: Maia Press Limited (14 Sep 2006)
ISBN-13: 978-1904559214
Price: £8.99 (£6.99 from Amazon)
"This is the story of how I became a man. Millions of people died and I became a man." The words open a novel of a teenage Jewish boy who sailed with his family as refugees on the SS St. Louis from Hamburg for Havana in May 1939. Written by the hero, Karl, for his grandchildren whilst in his eighties, this gripping tale is based on actual events and explores Karl's initial rejection of being a Jew (he refused bar mitzvah at 13) and why and how he changed to accept and be proud of his Jewishness. One strand of the story involves a mysterious refugee on the voyage who has suffered in concentration camps and who says he is Cain, doomed to walk the earth for ever. Discussions Karl has with this man are disturbing to Karl in that they portray the suffering and persecuted side of Jewish history, and how God has chosen this people, says "Cain", to inflict punishment on them because he loves them.
It's a good read.
Peter Harper
---
Re-thinking Christianity
by Keith Ward
• Hardcover: 256 pages
• Publisher: Oneworld Publications (30 Mar 2007)
• ISBN-13: 978-1851685066
• Price: £16.99 (£15.49 from Amazon)
I don't usually buy hardbacks, and most books on theology, I find, are of the sort that, once you've put them down, they're difficult to pick up again. This one is a rare exception. It came to me unsolicited from MPH to sell at the Synod bookstall. I dipped in and was hooked.
Ward takes us through thirteen versions of Christianity as it has developed and evolved over the centuries, responding to the challenges that each new age has brought. The main question is: 'What is Christian faith?' The main argument is that Christian faith has re-invented itself many times. The focus is on six major 'slices of history':
the New Testament period, when Christianity changed from Jewish Messianic sect to gentile universal church;
the 4th-8th century developments of the doctrines of incarnation and Trinity, whose legacy is clearly seen in the Eastern Orthodox churches;
the 12th-14th century focus on atonement, Purgatory and papal supremacy, still to be found in Roman Catholicism;
the 16th century Protestant Reformation, focusing on personal faith, still characteristic of mainstream Protestant churches;
the 18th-19th century liberal response to Enlightenment, accepting scientific and historical study of the Bible;
the 20th century rethinking of Christianity in a global context as one faith among many.
The book is therefore not just an outline of theology, nor a potted church history, nor a reconsideration of the person and work of Jesus, but all of these bound up together and presented as a reflective narrative. It sounds terribly daunting put that way, but Ward is such a clear thinker, trustworthy guide and eloquent communicator that he carries us along with him and makes it an exciting and fascinating journey through the past to explain where we are now and where the future is likely to take us.
It is not only a thought-provoking and illuminating book but an encouraging and uplifting one, if, like me, you worry whether a liberal, rational view of Christianity has a future in an age that seems to want either extreme secularism or extreme religiosity. Ward certainly thinks so, and I feel all the better for having read him.
My copy is available if anyone would like to borrow it. I'll want it back though, for this is a book that I'll want to read again.
John Summerwill